"I strive to put health at the forefront of everything I do. With Nistiryya, I aim to provide everyone with products that are intact with natural & organic goodness."
-Manoj Kathuria, CEO of Nistiryya
In recent years, India has seen a growing demand for organic foods which has exponentially increased since the pandemic. Natural and organic foods not only improve one's health but its production, organic farming has a great environmental, social and economic impact on the nation.
Today, not just older and rural people but people living in urban areas including millennials prefer healthy foods over junk foods. This is because natural and organic foods not just give you better health but transform your life too.
To help transform people's lives by providing naturally and organically grown/manufactured food products, Nistiryya was born.
Meaning of Nistiryya
Does the word "Nistiryya" sound like Sanskrit? Because it is – partly.
The word "Nistiryya" is a combination of two Sanskrit words: निसर्ग (Nisarga) which means Nature and तिर्यञ्च् (TiryaJc) which means Organic. It aligns with Nistiryya's vision of educating and creating awareness among the masses about the importance of natural and organic foods. Nistiryya is an organic idea of two friends who transformed their lives by bringing natural and organic food into their diet.
Loved the Portmanteau? Now, let us tell you our story – how it all began.
How Did We Begin?
The inspiration behind Nistiryya is our founder, Manoj Kathuria's own transformation journey where he lost 25 kgs in a span of one and a half years.
The story starts at the beginning of 2020 when Manoj worked in the corporate sector and weighed 95 kg. Always a sweet tooth, it was quite difficult for him to go for a sugar-free diet to reduce his weight. Then one day, a friend cum colleague told him about how switching to a conscious food-eating habit and satvic food lifestyle was impacting her life.
Encouraged by his friend, even Manoj decided to adopt a healthy lifestyle and conscious eating habits. He completely avoided sugar, packed foods, junk foods, fried foods, etc., and replaced them with natural, organic foods and sugar alternatives. He lost 15 kgs in 6-8 months without going to the gym and doing heavy workouts. By March 2021, he had lost a total of 25 kgs in 15-18 months!
Manoj realized that if he could do it, then anybody could do it. This encouraged him to not only spread awareness about the organic food lifestyle but also provide high-quality organic and natural foods to the masses.
Why Start With Honey?
Since refined sugar is the most consumed unhealthy product, we started with one of the oldest and healthiest alternatives – honey. But why monofloral honey?
For about 6-8 months team Nistiryya researched and traveled to gain knowledge and understand the world of beekeeping. We met and consulted many organic farmers and beekeepers and attended multiple workshops.
After multiple trials of tasting and testing, we shortlisted about 8-10 types of honey. Due to the distinctive and unique taste of ajwain and berry honey, we decided to launch them first. And on the 15th of December 2021, Nistiryya's first product line – Organic Honey was introduced.
We are extremely happy and delighted to share our one-year journey and post our 1st blog exactly a year later which is today 15th December 2022. We will keep surprising you with more variants of peculiar and eccentric along with other organic and all-natural food products.
Why Buy From Nistiryya?
We at Nistiryya leave no stone unturned in our vision of providing all ethically sourced, chemical-free, eco-friendly, natural and premium products. Let us elaborate:
100% Natural And Organic
All our products are 100% natural or organic or both. We use no additives or preservatives and source them raw from ethical and trusted sources. Our monofloral honey is raw, pure, unadulterated and directly sourced from certified organic beekeepers in India.
Authentic Varieties
All our food products contain no artificial flavours, sweeteners or any other adulterants. We know that sometimes even the so-called pure honey available in the market may have some traces of sugar or sugar syrup in it. But we have ensured that our products have zero added sugar or any kind of adulterants in them. Because we source our products from certified, authentic and trustworthy sources.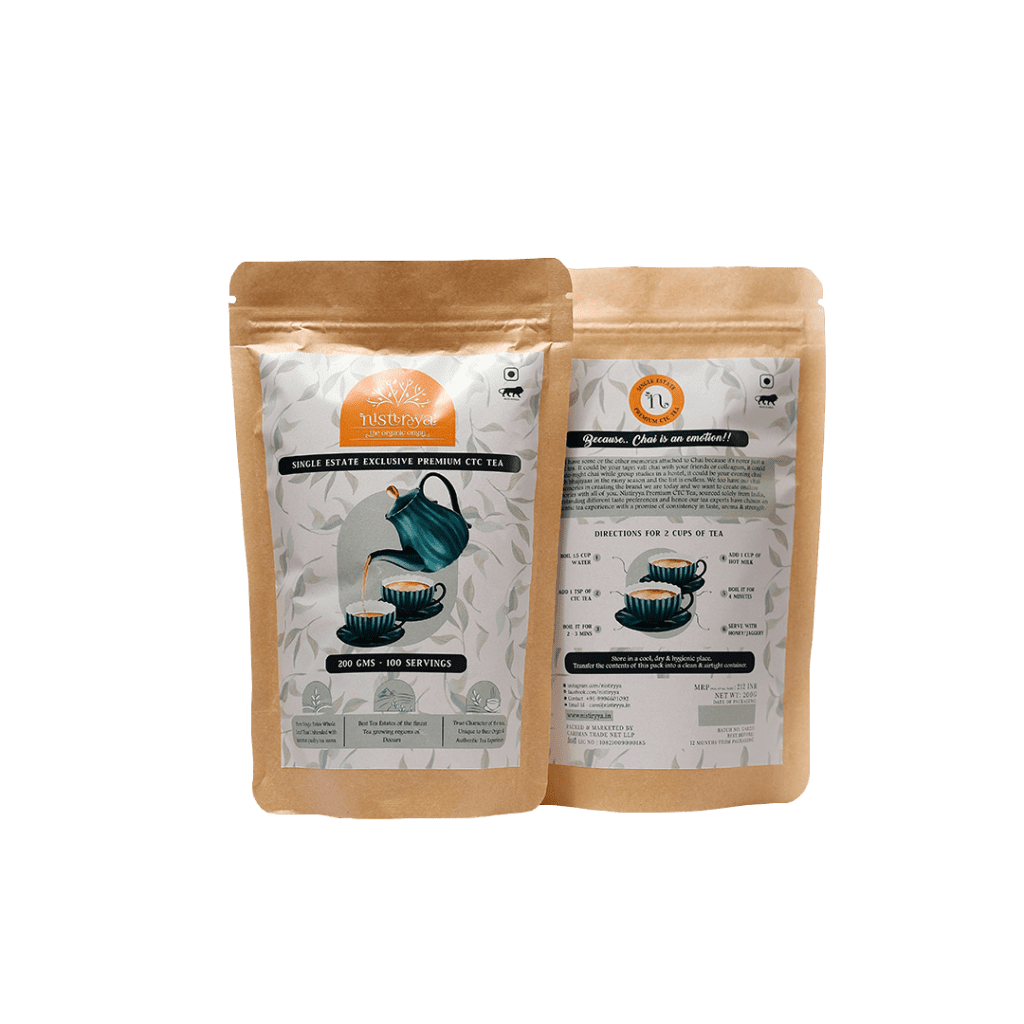 Free Delivery
We ship all over India free of cost irrespective of the total price. There is no minimum order and we provide free shipping even if you are ordering only one bottle of honey. Rest assured, you can expect your products delivered in 4-7 working days after being dispatched from our warehouse.
Buy From Nistiryya
Still skeptical about buying from us? Don't worry, we are NMR Tested, USFDA Certified, FSSAI Approved, ISO Certified, and APEDA registered.
To get started, try one of our delicious monofloral honey: ajwain, berry or both. You can even check out our premium CTC Tea or dry fruits mix. Head over to our products page to check all our products and their varieties.
Ordering from us is pretty easy: just add the product to our cart and check out like any other online store. If you have any questions, send an email to [email protected] or drop a message on the contact us page.
Connect with us on our social handles on Facebook, Instagram and LinkedIn and stay tuned for updates on our latest blogs and products.
So, which organic product are you ordering today?